OUR STRATEGY – REACHING THE TOP TOGETHER
Our strategy is founded on the basic values that guide our entrepreneurial actions.
• Quality takes absolute precedence in everything that we do.
• We build on the tradition of a company founded on a craft profession that
has grown into a market leader on the strength of experience and our
LOVE of FOOD and focus on constant development and innovation.
• Our success is based on our products that offer the best taste and enjoyment to
consumers all around the Philippines.
• We are committed to providing sustainable services in the best interests of
our customers, suppliers, employees, shareholders and the public at large.
All store locations needs approval from the management before stating construction. RAZTAPAHAN also has locators that help the FRANCHISEE to locate a store that is feasible and in accordance to your desired area.
STORE CONSTRUCTION ASSISTANCE
We provide assistance in the design of the store and kitchen, ensuring the efficiency and aesthetics of the store. We allow our partners to get their own construction firm in order to helo minimize their investment costs as long as they follow the standard RAZTAPAHAN store concept. 
MANAGEMENT AND CREW TRAINING
First time or experienced Entrepreneurs, we provide training in how to manage your store. That includes inventory management, cost-cutting, and personnel management. 
Store crew also received training before opening of the store. Videos and documentation are also provided to maintain the quality of the food your store servers.
RAZTAPAHAN's operation and management team are hands-on in providing the necessary support ang guide to make your venture very successful. 
RAZTAPAHAN uses the power of social media in creating the branch and social awareness. We regularly hold promotions and branding activities to remain competetive in the market.
RAZTAPAHAN continues to be innovative and open to new possibilities. With your help, we will be NUMBER 1!
Become one of our Cloud Kitchen partners as well!
Here's a sample computation on how much profit you can make with a Raztapahan store. ROI is usually less than 1 year!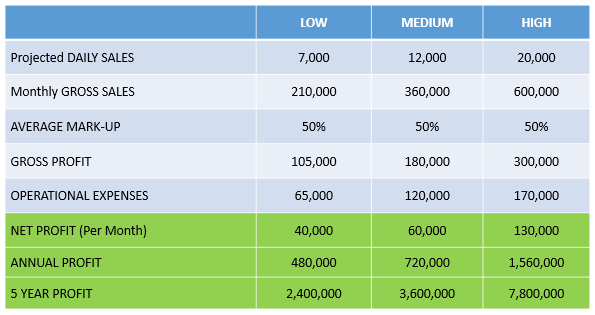 SMS at 0917 905 7936 with "I WANT TO FRANCHISE" and let's talk!